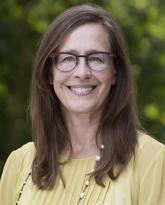 Jennifer Koshan
Professor
Faculty of Law
Courses
Law 407: Foundations in Law and Justice I
Law 547: Human Rights Law
Law 596: Feminist Legal Theory
Research and teaching
Research areas
Constitutional Law
Equality and Human Rights
State Responses to Interpersonal Violence
Feminist Legal Theory
Public Interest Advocacy
Activities
Jennifer's research interests are in the areas of constitutional law, equality and human rights, state responses to interpersonal violence, feminist legal theory, and public interest advocacy. In 2016, Jennifer was awarded a SSHRC Insight Grant ($175,000 over five years), and is the lead on a team of five researchers who are studying access to justice in domestic violence cases at the intersection of multiple legal systems. Co-investigators are Wendy Chan (Sociology, Simon Fraser University), Michaela Keet and Wanda Wiegers (Law, University of Saskatchewan) and Janet Mosher (Osgoode Hall Law School). Research on phase 1 mapped domestic violence laws and policies across Canada and will be disseminated in an ebook funded by a grant from the Law Foundation of Ontario Access to Justice Fund.
Biography
Before joining the Faculty in 2000, Jennifer practiced for several years in the Northwest Territories as Crown counsel, and worked as the Legal Director of the B.C. branch of the Women's Legal Education and Action Fund (LEAF), a non-profit equality rights organization. Jennifer served as Graduate Program Director from 2006-2011, as Associate Dean (Research) from 2007-2011, and as ABlawg Coordinator from 2007 to 2011 and 2013 to present.
Jennifer regularly sits on LEAF case subcommittees. She is a member of the Equality Effect's volunteer legal team, working with international human rights law to improve the lives of women and girls and is a founding member of the Women's Court of Canada, a feminist judgment writjng project. She also sits on the boards of the Alberta Law Reform Institute, Canadian Association of Law Teachers, and Public Interest Law Clinic.
Publications
Jennifer Koshan, Janet Mosher and Wanda Wiegers, "The Costs of Justice in Domestic Violence Cases: Mapping Canadian Law and Policy" in Trevor Farrow & Les Jacobs, eds, The Justice Crisis: The Cost and Value of Accessing Law (Vancouver: UBC Press, forthcoming 2020), available at SSRN.
Jonnette Watson Hamilton and Jennifer Koshan, "Equality Rights and Pay Equity: Déjá Vu in the Supreme Court of Canada" (2019) 15(1) Journal of Law and Equality 1-29, available at SSRN.
Jennifer Koshan, "Impact of the Feminist Judgment Writing Projects: The Case of the Women's Court of Canada" (2018) 8:9 Oñati Socio-Legal Series 1325-1354, available at SSRN.
Jennifer Koshan, "Specialised Domestic Violence Courts in Canada and the United States: Key Factors in Prioritising Safety for Women and Children" (2018) 40(4) Journal of Social Welfare and Family Law 515-532. Available on SSRN.
Jennifer Koshan and Jonnette Watson Hamilton, Alberta v Hutterian Brethren of Wilson Colony (2018) 30(2) Canadian Journal of Women and the Law 292, [2018] 1 WCR 299. Available on SSRN.
Jennifer Koshan, R v JA (2018) 30(2) Canadian Journal of Women and the Law 323, [2018] 1 WCR 329. Available on SSRN.
Jonnette Watson Hamilton and Jennifer Koshan, "The Role of Choice in Women's Freedom of Religion Claims in Canada" (2017) 36(2) Religious Studies and Theology 171-185. Available on ProQuest.
Melanie Randall, Jennifer Koshan and Patricia Nyaundi, eds, The Right to Say No: Marital Rape and Law Reform in Canada, Ghana, Kenya and Malawi (Oxford: Hart Publishing, 2017) (with two chapters by Jennifer Koshan available at SSRN and SSRN).
Jonnette Watson Hamilton and Jennifer Koshan, "Kahkewistahaw First Nation v. Taypotat: An Arbitrary Approach To Discrimination" (2016) 76 Supreme Court Law Review (2d) 219. Available on SSRN; see also SSRN.
Jennifer Koshan et al, "Farming the Constitution: The Illegality of Excluding Alberta Farmworkers from Labour and Employment Legislation" in S McDonald and B Barnetson (eds), Farm Workers in Western Canada: Injustices and Activism (Edmonton, U of A Press, 2016).
Jennifer Koshan, "Inequality and Identity at Work" (2015) 38:2 Dalhousie Law Journal 473. Abstract available on SSRN.
Jonnette Watson Hamilton and Jennifer Koshan, "Adverse Impact: The Supreme Court's Approach to Adverse Effects Discrimination Under Section 15 of the Charter" (2014), 19:2 Review of Constitutional Studies 191-235. Abstract available on SSRN.
Jennifer Koshan, "Under the Influence: Discrimination Under Human Rights Legislation and Section 15 of the Charter" (2014) 3(1) Can J Human Rights 115-142. Available at Canadian Journal of Human Rights.
Awards
Teaching: In April of 2010 Jennifer received a Students' Union Teaching Excellence Award, and she received an Honourable Mention in 2015 and 2018. This award recognizes the outstanding achievement and contributions to students in the classroom by exceptional teachers. She also received the Howard Tidswell Memorial Award for Teaching Excellence in 2014-15 from the Faculty of Law. In 2019 Jennifer received a Great Supervisor award from the Faculty of Graduate Studies.
Research: On a national level, Jennifer was awarded the 2013 Canadian Association of Law Teachers (CALT) Prize for Academic Excellence. This award honours exceptional contributions to research and law teaching by a Canadian law teacher in mid-career. In 2017, she was recognized as a University of Calgary Peak Scholar, which celebrates achievements in entrepreneurship, innovation, and knowledge engagement resulting in a positive social or economic impact in our communities. In 2020, Jennifer received the Canadian Bar Association's Ramon Hnatyshyn Award, a national award that recognizes outstanding contributions in law reform, legal scholarship and/or legal research, as well as the Law Society of Alberta / Canadian Bar Association (Alberta Branch) Distinguished Service Award for Legal Scholarship.
Service: In 2004 Jennifer was awarded TUCFA's Community Service Award for her contributions to the equality seeking community. In 2015, she received a University of Calgary ARCH Award for Alumni Achievement for her work with Equality Effect's 160 Girls project. In 2016, Jennifer received a Women in Law Leadership (WILL) Award, in the Leadership in the Profession (Broader Roles) category, recognizing female members of the Alberta legal profession.