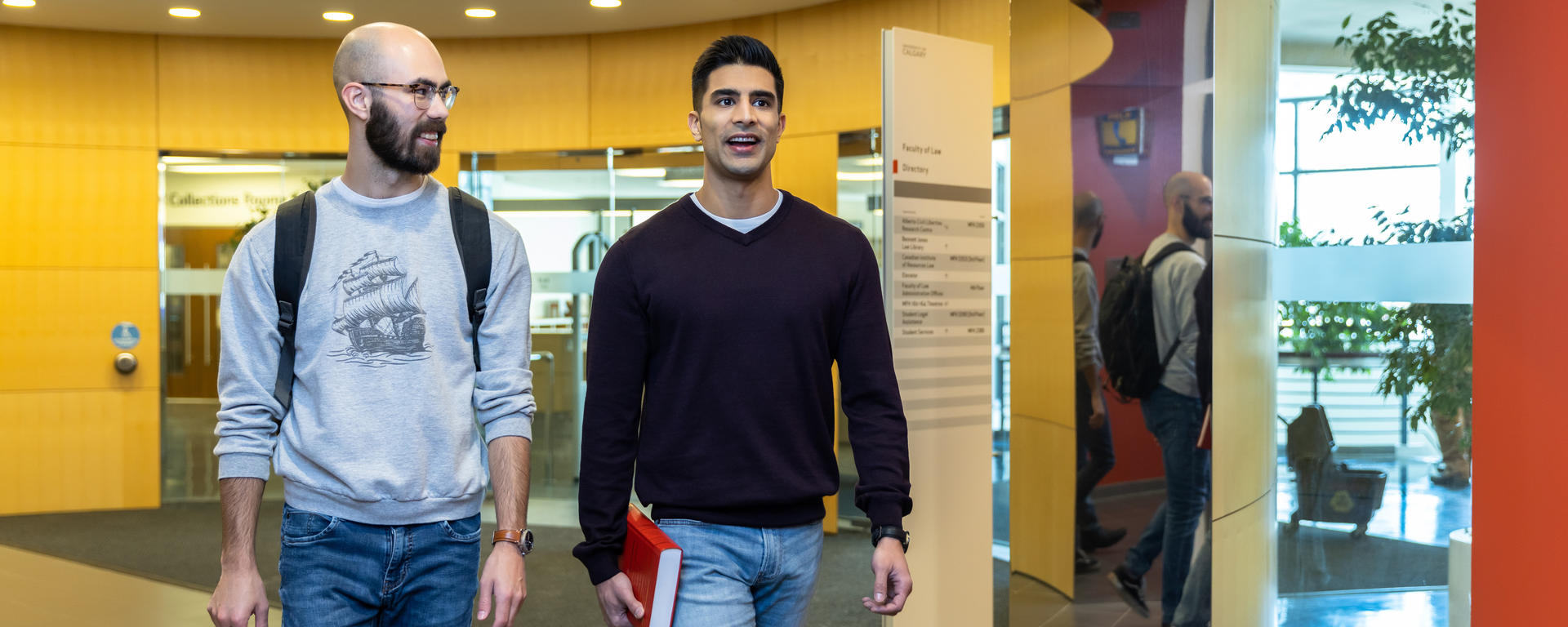 Upper-Year Admission Requirements
Upper-Year Applicants Important Dates & Deadlines
Oct. 1
Application deadline for Winter 2023 LOP applicants
(11:59 MT)
Oct. 15
Supporting documents deadline for Winter 2023 LOP applicants
(11:59 p.m. MT)
Feb. 1
Online applications open for Fall transfer and LOP applicants
May 15
Application deadline for Fall 2023 transfer and LOP applicants
(11:59 p.m. MT)
June 1
Supporting documents deadline for Fall 2023 transfer and LOP applicants
(11:59 p.m. MT)
If you are admitted as a transfer student, you must successfully complete two years of study at UCalgary Law to be granted a JD from UCalgary. Transfer students are not eligible for combined programs, or to take courses through a Letter of Permission or international exchange.
If you have successfully completed your first year of study at a Canadian common law school and have written the LSAT, you may apply to transfer to UCalgary Law.
Since upper-year students cannot take first-year courses at UCalgary Law, you must have completed the following mandatory classes in first year: Constitutional Law, Contracts, Crime, Property, and Torts. There are no exceptions to these requirements.
A transfer application will not be considered for admission if you are not studying at a Canadian common law school, or if you have already completed more than one full year at a Canadian common law school.
Submit your online application between February 1 and May 15. Supporting documents are due June 1. 
See below for required supporting documents.
Your application will be assessed using the same criteria as for first-year admissions. We will also consider your performance in your first year of law school and your stated reasons for wishing to transfer which should be clearly set out in your application.
All transfer applications will be assessed after the application deadline, not on a rolling basis.
Space limitation in the law school are a factor in admitting transfer applicants, which means that in some years few or no transfer applicants will be admitted. Typically, we receive more transfer applications than we can accommodate, and applicants should be prepared for the possibility of receiving regrets despite compelling or extenuating personal circumstances.
Letter of Permission (LOP) students
International exchange students
If you are attending an international law school that has signed an official exchange agreement with UCalgary, you may apply to study at UCalgary Law for one year or one semester as an International Exchange student.
Exchange applicants are not required to write the LSAT; however, you may be required to complete the TOEFL and demonstrate appropriate competency in written and spoken English.
Submit your application through the Study Abroad Office. The Study Abroad Office will also collect your supporting documents and forward your completed application to the Faculty of Law for assessment.
Required supporting documents include two reference letters from law school instructors, transcripts from every post-secondary institution you have previously attended, and a Statement of Interest that indicates the reasons you wish to attend UCalgary Law on an exchange.
Please refer to the Study Abroad Office website for application deadlines, and how to submit your application and supporting documents.
Due to space constraints, International Exchange students may not take any of the following courses:
Any 400 level law course
Law 503: Administrative Law
Law 505: Civil Procedure
Law 507: Evidence
Law 510: Ethical Lawyering
Law 508: Negotiation
Law 602: Advocacy
Please note that in any given year additional course restrictions may apply.
International Energy Lawyers Program (IELP) applicants
This application procedure is for law students currently attending the University of Houston Law Center, who have received approval from UH to apply for the IELP.
If you are not currently a law student at the University of Houston, please refer to the admission procedure for first-year JD applicants.
The online application for the IELP is accessible by invitation only, between June 15 and July 1, with supporting documents due August 1.
 
We will send you an invitation by email when the application opens, which will include a link to the online application form. You must use the emailed link to access the online application; the IELP applicant category cannot be accessed through the regular online application.
 
To access the online application, you must create an eID. For help with creating an eID or with recovering a previous eID, please contact the IT Support Centre.
 
After signing into the online application with your eID, you will see that an application has already been started for you. Please click "edit" next to this application to complete the application; you must not start a new application, or you will not be able to access the IELP application category to complete your application.
See below for required supporting documents.
To access the online application, you must create an eID. For help with creating an eID or with recovering a previous eID, please contact the IT Support Centre.
The online application includes:
Academic history: you must disclose every post-secondary institution you have attended
Academic and/or other honours
LSAT results and LSAC account number (e.g. L12345678)
Referee names and contact information: both phone and email
Employment history
Other non-academic pursuits
Special facts
Statement of interest
A non-refundable application fee must be paid online when submitting your application.
$125 for Canadians or Permanent Residents
$145 for International Students
We will only consider the information that you provide in the online application. No updates will be accepted after your application is submitted.
Statement of Interest
You must answer the following two questions within a maximum of 500 words:
Why are you interested in attending UCalgary Law as a transfer/LOP/IELP student?
What would you like to do with your law degree?
Required supporting documents
You must provide your LSAC account number (e.g. L12345678) in your online application. We will use your LSAC account number to get your LSAT report directly from LSAC.
You must provide one official transcript from every post-secondary institution that you have attended, even if you did not graduate. Please note that UCalgary Law cannot order them on your behalf.
You must wait until your winter term grades are posted before sending your law school transcript for Fall term applications. If you are a Winter term LOP applicant, you may send your law school transcript when you apply in the fall.
The Admissions office will automatically download your UCalgary transcript if you previously attended UCalgary.
If you applied to UCalgary Law within the past three years, some official transcripts may be pulled forward, unless you have taken more courses at that institution. Please note that we cannot use an unofficial transcript from the Fall 2021 application cycle for the assessment of a reapplication.
Transcripts that are not in English or French must be accompanied by a notarized translation.
Please use the following address if mailing official transcripts. Mailed transcripts must arrive in a sealed envelope from the issuing institution.
Law Admissions, MFH 2380
University of Calgary
2500 University Drive NW
Calgary, AB T2N 1N4
Official digital transcripts can also be sent directly by the issuing institution to law@ucalgary.ca, through the ApplyAlberta network, or through secure electronic delivery services such as Parchment, e-Script-Safe, or National Student Clearinghouse.
You must provide the names and contact information for two referees when submitting your online application. Both referees must be law school instructors for all upper-year applications.
We will send your referees an email with a unique link to access and upload their reference form within two weeks after you submit your application. Your referees must submit their reference form by 11:59 pm MT on the supporting documents deadline indicated for your applicant category.