Current JD Students
Visit UCalgary Law's SharePoint site to access the most up-to-date course timetables and exam schedules. (requires login)
Fall 2020 term FAQs | Get answers to your questions about how the COVID-19 pandemic will impact your studies this fall. Read more
2020/2021 Important Dates
Sept. 8, 2020
First day of Fall classes and 1L orientation
Sept. 25, 2020
Fee payment deadline for Fall term
Dec. 8, 2020
Last day of Fall classes
Dec. 11, 2020
First day of exams for Fall classes
Jan. 6, 2021
Winter block courses start
Jan. 25, 2021
Regularly scheduled classes for 1L, 2L,3L, LOP, visiting, exchange and graduate students.
Jan. 22, 2021
Fee payment deadline for Winter term
April 9, 2021
Last day of Winter classes
April 12, 2021
First day of exams for Winter classes
Registration & Course Selection
Clinical Courses & Directed Research Projects
Law 591: Provincial Court Clerkships
Law 653: Student Proposals for Directed Research
Law 696: Human Rights Clinical
Course Materials & Requirements
As part of the competency evaluation requirements of upper-year students, you are required to successfully complete all compulsory courses, as well as the following elements.
Upper-year writing requirement and written declaration of completion
International requirement and written declaration of completion
Theoretical Perspectives requirement and written declaration of completion
Our Mooting & Debating program
You can participate in both non-credit and credit moots during your time at UCalgary Law. Credit moots are open to second and third year students.
International & Civil Law Study
Third-year students have the opportunity to take an approved program of legal studies at an international law school or a civil law school within Canada. The upper-year international requirement can be completed by an international exchange for one academic term if approved by the Associate Dean. The most logical term for exchange is the fall term of third year, when no mandatory courses are scheduled.
Once approved for exchange, you must obtain approval from the Assistant Dean, Student Services on your proposed courses. Submit the course outlines/descriptions for each proposed course, as well as the number of units each course is worth, by email at least five business days prior to the course registration deadline at the intended institution.
You must register for the equivalent of 12 UCalgary units per term, to a maximum of 18 units.

You must return to UCalgary to participate in Law 602: Advocacy in January.

Information for international study can be found with the Study Abroad Office
Check out opportunities for financial assistance
Non-Law Courses
You may claim up to 9 credit hours towards your JD for courses taken outside the law school during your second and third years, with the approval of the Assistant Dean, Student Services. Courses must be at a 400-level or higher and must significantly add to your understanding of law and the legal system. Courses must not involve a subject that can be taken at UCalgary Law.
Non-law courses from UCalgary count towards GPA calculations; non-law courses from other institutions do not.
Study Outside UCalgary
You may take law courses for credit at another Canadian law school or abroad during the equivalent of spring or summer sessions, with the approval of the Associate Dean.
You may register for directed research during spring or summer sessions, with the approval of the Associate Dean and with the support of an individual instructor.
Third-year students may go on a Letter of Permission for one term or one year to another Canadian common law school and still earn a JD from UCalgary. You will be required to complete the required courses and requirements for the second and third years, and you must attend the block courses at the beginning of the winter terms. Approval from the Assistant Dean, Student Services is required.
Progression through the JD program
Student must achieve "satisfactory performance" in all first-year courses, which means a minimum grade of C- in a course grade on the 12-band scale, and a grade of CR in a course graded on CR/D/F basis.

Students may be required to achieve satisfactory performance in specific elements of required courses, in particular Foundations in Law and Justice I and II, and Legislation.

The exact requirements to progress from the first year of the JD program are set out in the Faculty Regulations.

Upper-year students must achieve satisfactory performance in each required course and the three required elements.
International Energy Lawyers Program (IELP)
IELP FAQs
Interested in the IELP? Heading to Houston this fall? Get answers to all of your questions about the program.
Academic Success and Personal Well-Being
Counselling Services
Assist provides free and confidential help to Alberta lawyers, articling students and law students and their immediate families with personal issues. As a law student, you and your immediate family are entitled to four free sessions of psychological counselling, per issue, per year. Peer support is provided to law students and articling students only.
To schedule an appointment with the psychologist, please call 1.877.498.6898.
New for 2020: UCalgary Law is pleased to welcome our new Wellness Mentor in Residence, Orlando Da Silva. Orlando is a lawyer who has had his own struggles with mental health and wants to be available for students to talk about depression, anxiety or stress with someone who is a member of the profession and who has lived experiences. He will be available to meet with students starting in September, dates and times are still to be confirmed.
Additional funding for current JD students
Kerry Dyte, QC Student Assistance Fund
The Kerry Dyte Q.C. Student Assistance Fund is available for all law students. Students can access up to $5,000 upon demonstration of financial need, such as travel expenses for family illness or bereavement, tuition support or medical and dental expenses.
Applications for funding can be made to Angela Gallo-Dewar, Assistant Dean, Student Services (403.220.6154) and will be granted at the dean's discretion.
Student Activities Fund
If a student would like to attend a conference, they may apply for funding from the Student Activities Fund. Applicants must submit a proposal and include the following information:
Details of the conference

Why attendance would be beneficial to the student or how it will help further their education

Budget (conference fees, travel costs, additional costs, etc.)

If other sources of funding have already been received/secured

Proposals can be submitted to Susan Marks, Manager, Operations (403.220.6753) and will be granted at the dean's discretion.
Shell Experiential Energy Learning (SEEL) Program Activities Fund
The Shell Experiential Energy Learning (SEEL) Program provides funding to University of Calgary undergraduates in all disciplines for field trips, conferences, special projects and other activities focused on sustainable energy, environment and economy.
The SEEL Program enhances the hands-on learning experience for individual undergraduates and undergrad student clubs and organizations. Sponsored by Shell Canada, administered by the University of Calgary and with applications judged by students. The SEEL Program is part of Shell's Campus Ambassador Program (CAP).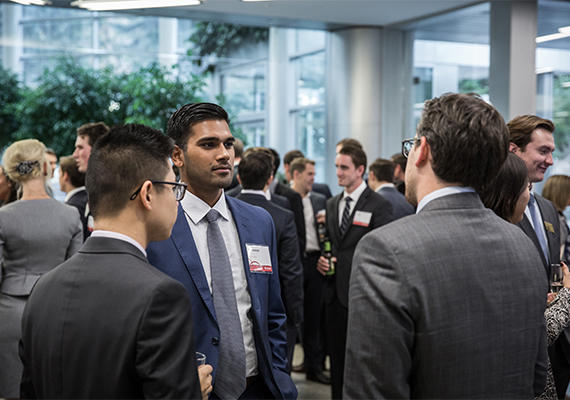 Career & Professional Development Office
Visit the Career & Professional Development Office for career search resources and job opportunities.