I'm not a fan of rollercoasters, either the metaphorical or literal kind. And to describe the past year as a rollercoaster is an understatement.  
We started the 2021-2022 academic year off by welcoming students back to Murray Fraser Hall but we kept our events online. A COVID outbreak on campus in December quickly moved exams online and pushed our Winter semester back to virtual learning as well. While it was great to see campus gradually come back to life, to interact with students and colleagues in-person again (albeit with the protection of a mask), and to participate in our first in-person Convocation in two years, there was still an air of wariness in everything we did.  
Yet, if I've learned anything during this pandemic, it's that we are institutionally resilient. Our ability to meet and overcome challenges was evident more than ever, and our students, faculty and staff have been able to make the best of any curveball thrown their way over the past two years.  
Our professors continue to innovate in the way we teach law, creating new courses that prepare students more fully for the legal profession. They're also leading and participating in exciting research across all our specialty areas, from cryptocurrencies to freedom of religion to energy transitions to climate change. Our students and alumni are making an impact across the country, and our donors are helping ensure a legal education is more accessible for all.  
With two years left in my term as Dean of UCalgary Law, I'm excited for what the future holds, to continue to drive innovation in legal education, to support research that has an impact in our communities, and to see our students grow and flourish to become champions for the modern legal profession. 
I'm also excited to continue working with you to help make Calgary's law school the leader in legal education provincially, nationally and around the world. 
The Faculty of Law has the Energy for Innovation and Impact, at a university that lives in one of Canada's most dynamic and enterprising cities. We are facing the future head on and making our mark on the future of legal education. Thank you for your continued support.  
Sincerely, 
Ian Holloway, PC, KC 
Professor and Dean of Law 
UCalgary law dean receives meaningful, surprising recognition from peers 
On June 13, 2022, the Law Society of Ontario presented Dr. Ian Holloway, PhD, KC, dean of the University of Calgary's Faculty of Law, with a degree of Doctor of Laws, honoris causa (LLD) in recognition of his distinguished legal career. 
The Law Society says it awards its honorary doctorates annually to "distinguished individuals in recognition of outstanding achievements in the legal profession, the rule of law or the cause of justice." 
"It's a tremendous honour, it came as a surprise, but it's quite meaningful to me," says Holloway. "I still consider myself to be a member of the legal profession, so to be honoured by one's peers in this way is a special thing." 
The honorary doctorate is a culmination of a career that has spanned decades and has included legal practice, study and teaching. 
"Where I am and who I am now, is the result of everything I've done and everywhere I've been in the past," says Holloway.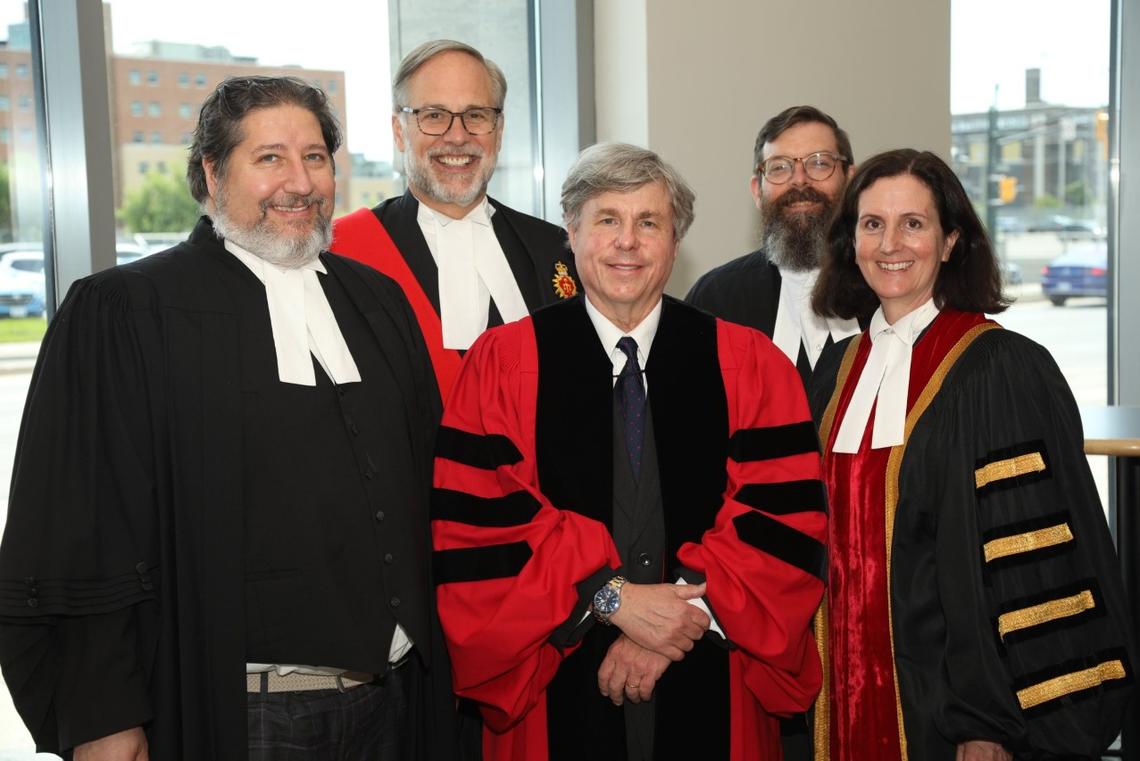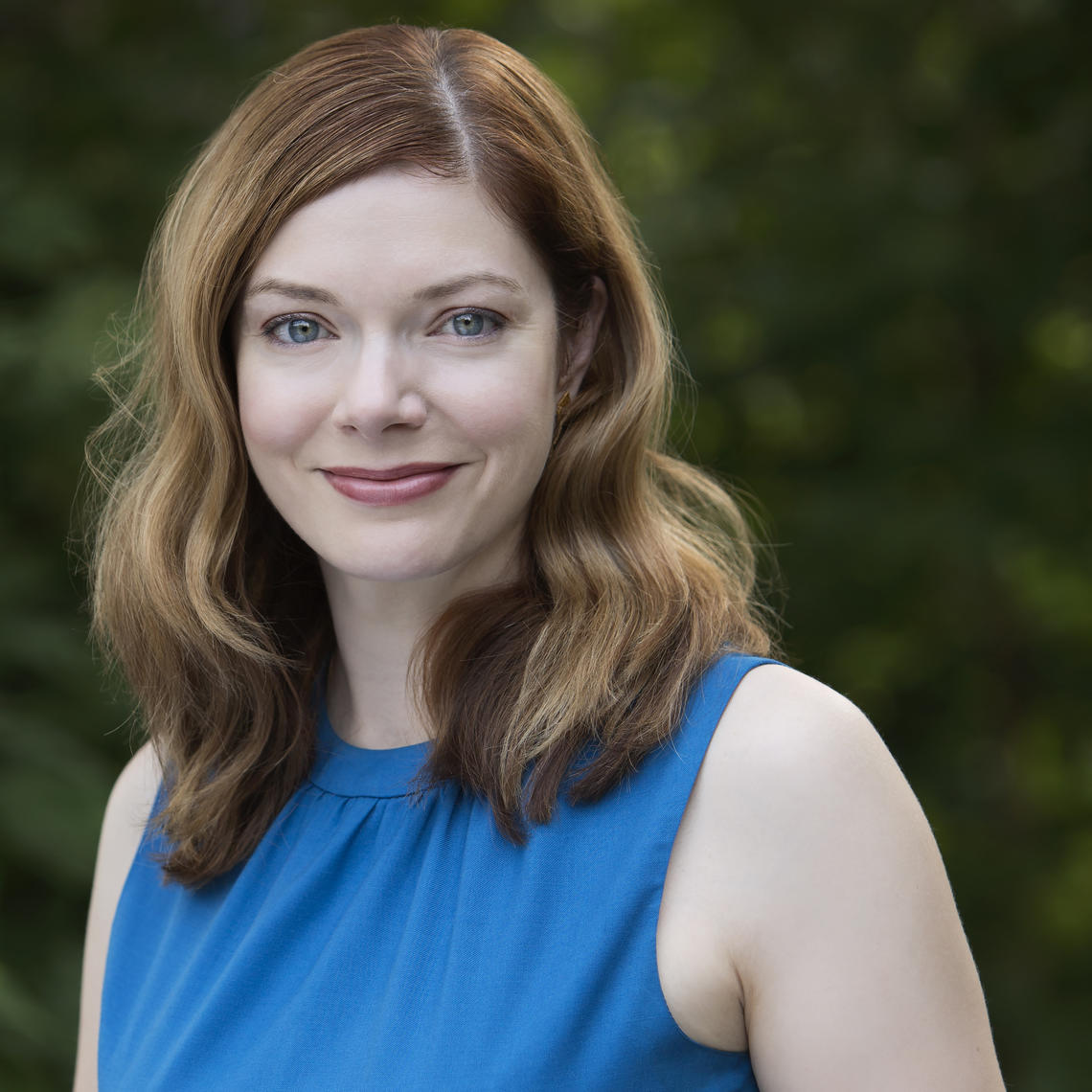 Researcher explores net zero electricity grid, social license in energy projects
Professor Kristen van de Biezenbos continues to advance her research on the local impacts of energy projects, transitioning to a low carbon economy, and electricity planning.    
According to van de Biezenbos, Canada is currently experiencing an electricity crisis resulting from divided provincial systems and a lack of interprovincial transmission lines. This has caused a division of the country into renewable have- and have-not provinces, a deterrent to private investment in renewable energy projects, and an on-going reliance on fossil fuels for power in parts of the country. All these factors have combined to create a difficult situation for Canada to meet its Paris Agreement commitments and to achieve the national target of Net Zero by 2050.   
In her article "Lost in Transmission: A Constitutional Approach to Achieving a Nationwide Net Zero Electricity System," van de Biezenbos argues that the first step in addressing these issues is to create a new market for interprovincial zero-emission power sales by exercising federal jurisdiction over the permitting of interprovincial transmission lines (which currently reside in provincial jurisdiction). This will encourage private companies to enter the market, thus removing some of the financial burden of building and maintaining the grid from the provinces. The article explores the Constitutional basis for federal jurisdiction over interprovincial power lines, as well as the Constitutional limits that will keep provincial grids under provincial control.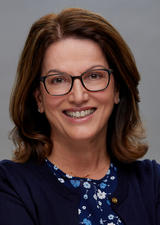 Study finds link between high density of fracking operations and increased risk of adverse birth outcomes
A multidisciplinary team of researchers with expertise in medicine, education, engineering, geography, science, and law is investigating maternal and child health, child development, regulations and policy related to hydraulic fracturing in Alberta. 
In the first study the University of Calgary team has published in this research area, the scientists discovered a link between the density of fracking operations and increased risk for poor health outcomes for pregnant people and their babies.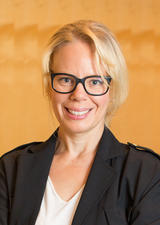 UCalgary research team poised to develop large-scale marine carbon dioxide removal technology
A transdisciplinary research team from the University of Calgary has received $100,000 from the Scotiabank Net Zero Research Fund to put toward their carbon dioxide removal (CDR) pilot. The PEACH (Practical Electrochemical Air Capture) team made up of chemists, engineers, legal scholars, and geoscientists will use the funding to assess feasible approaches to CDR in marine regions. 
They are focused on development and assessment of a new technology that could store atmospheric carbon long-term as bicarbonate in the ocean. The two-year project, which is now in technology development phase, introduces a novel approach to safely change near-surface seawater chemistry to promote natural uptake of carbon dioxide in the ocean. 
Your gifts at work: Osler and OUTLaw 2SLGBTQI+ Diversity Scholarship
Virtual games teach students how to work in intimate partner violence situations
For many lawyers, nurses and social workers, the first time they must work in a domestic assault situation can be daunting. Whether they are working with the victim, the perpetrator, or their children, decisions that are made are complex and run the risk of having unintended consequences.   
A new project team — funded by a UCalgary Teaching and Learning grant — is developing virtual gaming simulations to educate students from the faculties of Nursing, Law and Social Work how to address childhood exposure to intimate partner violence. The simulations will involve these student groups being exposed to all the members of a family as they interact with the system at different points of intervention. 
"We're creating something that's very much like an online game for the students to play," explains Jennifer Koshan, a professor in the Faculty of Law, who has help on the project from research assistant Aurora Allison. "With the help of actors, students will work through various decision points in a domestic violence situation. Like a 'choose your own adventure' game, students will be taken down different paths based on the decisions they make."  
Law students will be asked to play the role of a lawyer, who could be representing the victim, representing the perpetrator, or representing a child. If a decision made or answer given isn't the best one, the game will steer them toward thinking about what the best decision would have been and why.  
Participation from nursing students will start when the virtual patient/s access health services such as hospitals or clinics. They will use their nursing knowledge and skills to assess the patient and intervene based on the scope of their practice.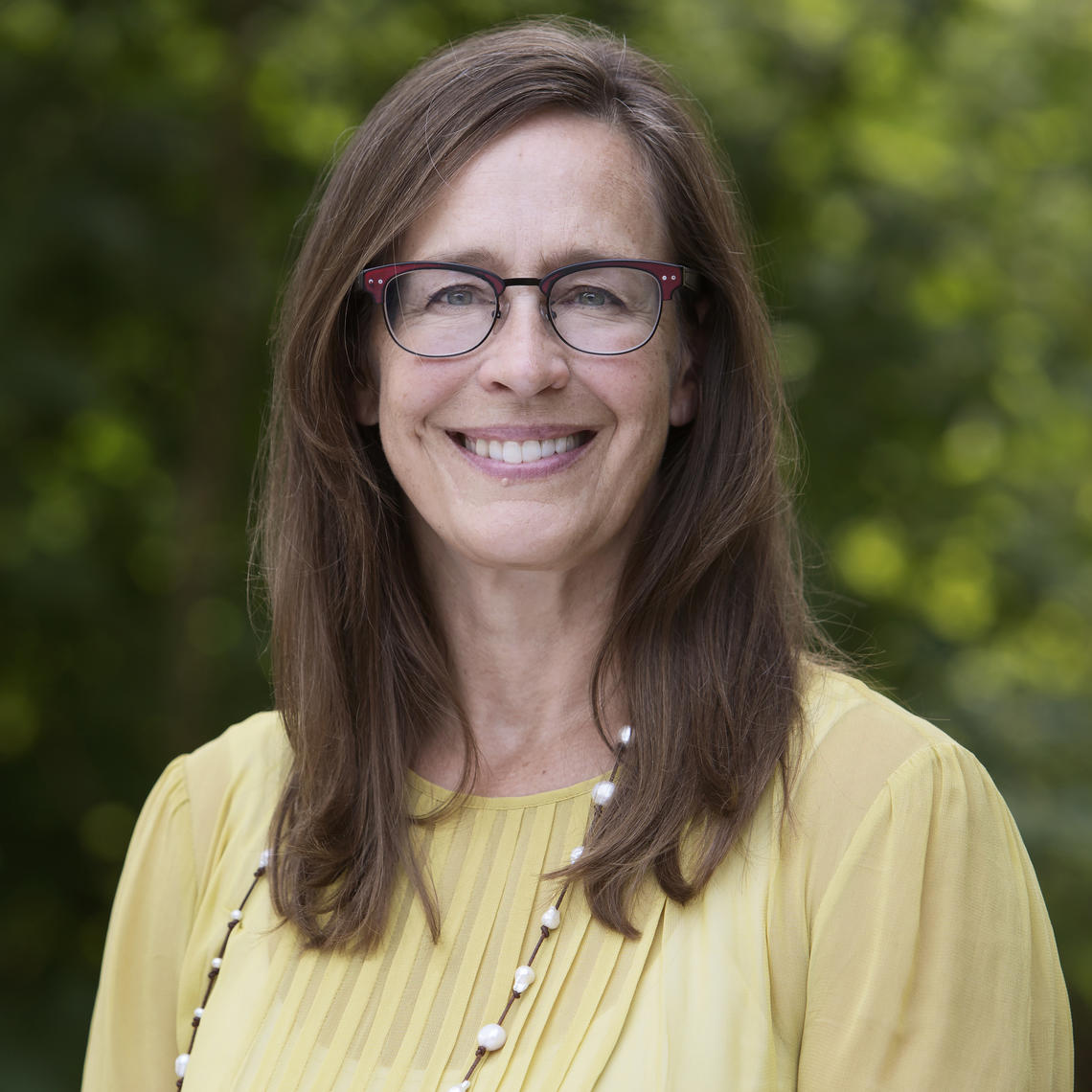 New law course provides understanding in how we disagree, compromise, and learn together
The division of power, known as federalism, is the topic of a new course offered by the Faculty of Law, created by Dr. Fenner Stewart, PhD. The study of federalism reveals the divisions and separations of public power within a single territory.    
Using a series of transdisciplinary readings, students explore Canada's blueprint for formal governance and power-sharing, gaining an appreciation for why Canadian institutions work as they do, and how they must change to cope with the needs of a diverse, pluralistic society.   
"Our public sphere is polarized and divided," explains Stewart. "It's becoming more difficult for Canadians to articulate public reason and public interest. It has never been more important for all Canadians to learn how to flourish together. Students in Canadian Federalism will not only acquire tools that will make them better lawyers, but also tools that will make them better citizens, who can help resuscitate the public sphere."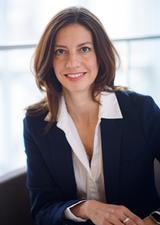 New course exposes students to life beyond the law firm
A new course that gives students insights into the world of corporate and in-house counsel examines problems faced by in-house and external counsel in advising corporations and addresses the pragmatic aspects of in-house practice, focusing on developing skills. Working through real-life examples, students learn how to read financial statements, give presentations on legal or ethical issues that an organization may face, understand legal operations matters like contract lifecycle management, and build their business acumen.     
Vancouver-based lawyer Lynne Charbonneau pitched the course to Dean Holloway as an area of practice that would be great for students to understand, as a different career path, and to provide tools for students entering practice that would be useful in both a law firm and in-house environment. 
"When you work in a firm, you are paid to provide advice, and organizations or individuals are likely to take that advice. When you work in a company, you don't necessarily have any authority over anything; you are there as a guide and to explain the law," says Charbonneau. 
Professor wins SU Teaching Excellence Award
Professor Lisa Silver was a 2022 winner of the Students' Union Teaching Excellence Awards, a campus-wide recognition program giving undergraduate students the chance to honour and thank those instructors, professors, and teaching assistants who have supported and made a lasting and positive impression on their students.   
"There is nothing more meaningful than being recognized by your students who inspire and challenge me to be at my best. Through this award, I too recognize their accomplishments and efforts. I am proud to share knowledge with the amazing students at UCalgary Law, who will become the best our profession can offer."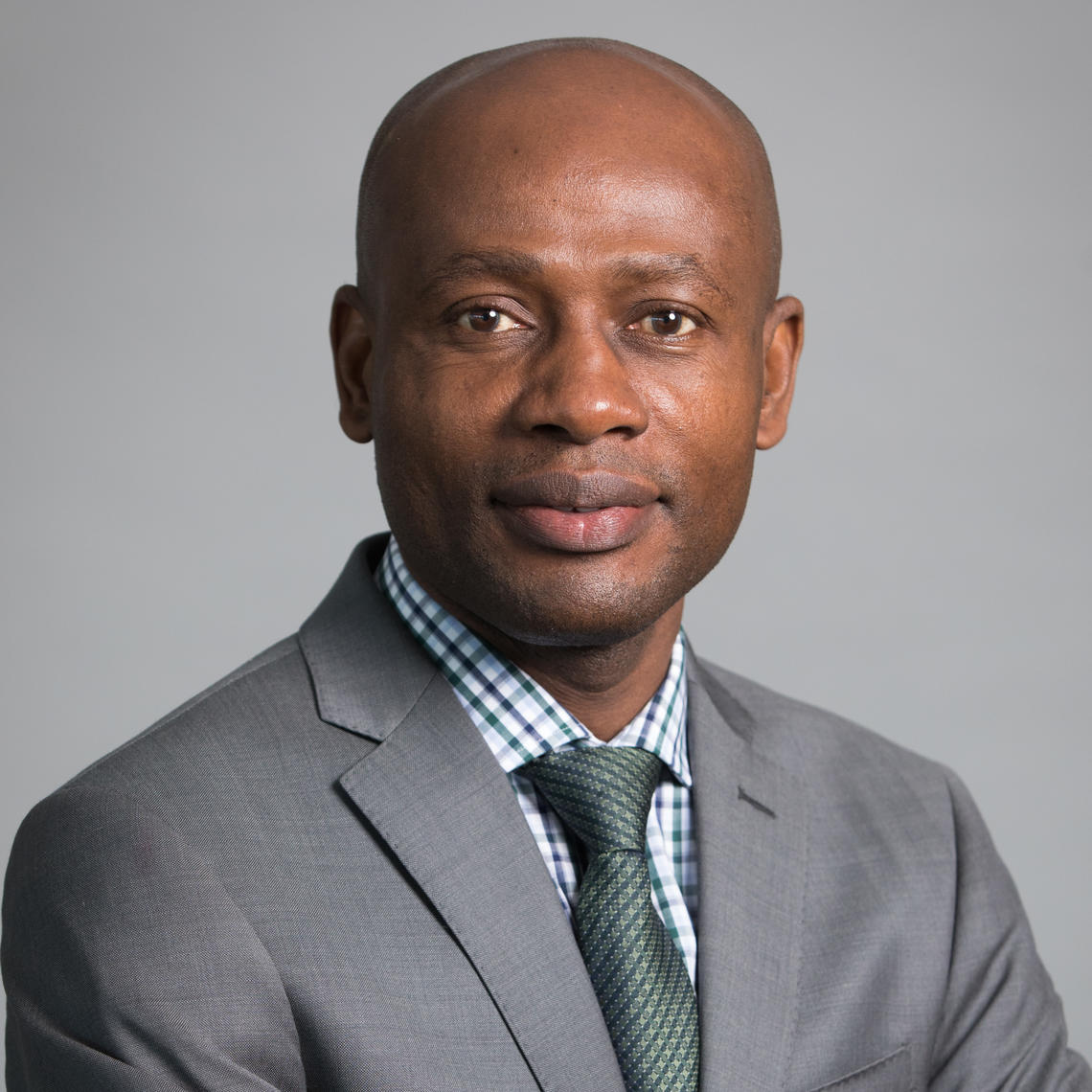 Research team receives funding from New Frontiers in Research Fund
Professor Gideon Christian is the co-principal investigator for a research team exploring immigrant/racialized community mobilization towards empowerment through community-based health data cooperative, which received $250,000 in funding from the New Frontiers in Research Fund (NFRF). 
The project team will explore the creation of community-based health data cooperatives (HDC) in an immigrant community, considering ethical & legal frameworks, organization management, data security, privacy, computing science, knowledge mobilization, and community development. 
The goal of this exploration grant is to achieve the following interconnected objectives: 
To build a diverse interdisciplinary team comprised of immigrant-community members, academics, policymakers, and non-governmental organizations on the initiative of HDC; 
To undertake a comprehensive environmental scan, including stakeholder analysis to conduct key-informant interviews, gather feedback, and summarize existing models of cooperatives that will inform this initiative; 
To conduct early-stage assessments determining sustainability and scalability of the HDC initiative. 
Your gifts at work: David Holub Interdisciplinary CleanTech Design Challenge
Third-year student wins Undergraduate Research Award 
Third-year student Ashley Weleschuk won the Faculty of Law award in the Students' Union Undergraduate Research Symposium. Under the supervision of Professor Nickie Nikolaou, Weleschuk explored how instructors in the Faculty of Law use Course Learning Outcomes (CLOs) in courses in the JD program, and how CLOs could be implemented to assist students. 
"My aim was to research how instructors in the Faculty of Law use Course Learning Outcomes (CLOs) in courses in the JD program, and how CLOs could be implemented to assist students. CLOs are the learning goals of a course. They are usually listed in course outlines starting with the phrase, "by the end of this course, students should be able to…" CLOs are integral to the course design process, as they help instructors determine what to teach, assign, and assess. However, when designed and implemented carefully, they can also be a useful tool for students." 
UCalgary Law student elected president of national Black Law Students' Association of Canada 
Third-year student Mirabelle Harris-Eze was elected president of the Black Law Students' Association of Canada at their AGM in March.  
The Black Law Students' Association of Canada (BLSA Canada) is a national student-run organization founded in 1991. BLSA Canada is committed to supporting and enhancing academic and professional opportunities for Black law students in both official languages. This commitment extends to Black high school and undergraduate students and the community generally through mentorship initiatives and a scholarship program. 
Second-year student wins PBSC Chief Justice Richard Wagner Award 
Charlotte Dalwood, a second-year student at UCalgary Law, was awarded the annual Chief Justice Richard Wagner Award from Pro Bono Students Canada for her work with UCalgary Law's Trans ID Clinic. The awards recognize one volunteer from each participating law school Chapter who has demonstrated exemplary leadership and commitment to PBSC's mission of providing free legal support to people and communities facing barriers to justice. 
"As a trans woman myself, I am personally familiar with both the importance of having legal documentation that affirms one's name and gender as well as the difficulties of obtaining it. I chose to volunteer with the Trans ID clinic so I could put my legal education to work reducing those difficulties for other members of my community. Seeing the joy on the faces of the clients I've helped is its own reward." 
Alumni win distinguished service awards
Two UCalgary Law alumni were recognized by the Canadian Bar Association - Alberta Branch with 2022 Distinguished Service Awards. 
Judith Hanebury, LLB'79, LLM'91, received the award for Service to the Community. Seeing the growing crisis at the beginning of the pandemic, she spearheaded the development of the Consumer Debt Negotiation Project with the Public Interest Law Clinic, which supports Albertans struggling financially with the end of pandemic supports. Through this project, she also supports volunteer lawyers, law students, and the project's own articling student. 
Michael Greene, QC, LLB'82 received the award for Service to the Profession. Michael is an active CBA volunteer, having served on the executive committee of both the National and Alberta South Immigration Law Sections. He received his Queen's Counsel designation in 2012 and was a recipient of the Canadian Bar Association Louis St. Laurent Award of Excellent for exceptional service in 2001. 
Alumni appointments 
Shannon Smallwood, LLB'99 - Chief Justice, Supreme Court of the Northwest Territories
Aldo Argento, LLB'88 - Provincial Court of Alberta, Calgary Civil Division  
David Findlay, LLB'02 - Provincial Court of Alberta, Family and Youth Court in Calgary  
Emanuel Vomberg, LLB'83 - Justice of the Peace 
Jennifer Brun, KC, LLB'08 - British Columbia Supreme Court Civil and Family Rules committee 
Gregory McMeekin, JD'15 - Alberta Advocate for Persons with Disabilities 
Jessica Gill, JD'15 - Alberta Human Rights Commission 
Inaugural Indigenous Graduates Convocation Ceremony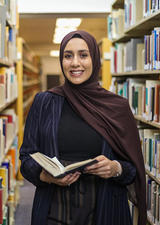 Alumna wins inaugural Justice Rosalie Silberman Abella Prize
Dalal Souraya, JD'21 was one of 23 winners of the prize from the Royal Society of Canada. The RSC established the Prize in honour of Justice Rosalie Silberman Abella, a changemaker celebrated for her visionary intellectual contributions and commitment to building equality and equity across Canadian society and beyond. 
As a former Society of Law Students president, Dalal advocated for EDI support and created a bursary for low-income students. Currently, Dalal is articling at Calgary Legal Guidance, and plans to continue advocating for access to justice throughout her career.  
"Justice Abella has been a huge role model for me since the start of my law career," says Souraya. "She has broken so many barriers and significantly changed this profession and our society for the better. That is why I am beyond honoured to have received this award. I recognize the privilege I have in being in this profession, and I want to use that to help others. Overall, I am thankful for the recognition. I just hope to live up to this award one day and make a positive change in the world."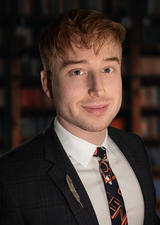 Law alum's career heads into orbit with unexpected passion for space law
Do the laws of the land apply to space?  
That's a question without a definitive answer as human presence beyond the confines of Planet Earth is expected to grow in the years to come. How do we create laws that are applicable in orbit or beyond?  
A graduate from the University of Calgary's Faculty of Law is channeling his career toward the growing field of space law in the hopes of helping find answers to these questions. 
Initially interested in the fields of international security and cybersecurity law, Gregory Radisic, JD'22, had the opportunity to intern with the United Nations Office on Drugs and Crime (UNODC). Surprisingly, this opportunity introduced him to the up-and-coming field of space law. 
"I went to law school with the idea that I was going to really try the buffet of law, so to speak, a little bit of everything, and see what kind of meal I want for life," says Radisic. 
Following his internship with UNODC, Radisic successfully completed an internship with the United Nations Office of Outer Space Affairs (UNOOSA), followed by an ongoing legal fellowship with the American National Space Society (NSS) and another internship with the European Space Agency (ESA). 
"Working for a space agency is probably one of the most exciting things that you can do as a young law student," he says. "It has invigorated my time in law school and given me a lot of energy and excitement."