The Faculty of Law acknowledges and respects the rich diversity of our learners, their communities, their aspirations, and their cultures and traditions. Our Indigenous admissions review process works to ensure equitable access and the successful participation of Indigenous learners.
The purpose of this review process is to facilitate access to legal education and to the legal profession for Indigenous Peoples, and to enrich the intellectual and cultural life at the law school and the legal community.
Applying for Indigenous Student Admission
In the online application, all Canadian applicants are asked to indicate if they self-identify as First Nations, Métis, or Inuit. If you answer yes to that question, you will be eligible for the Indigenous admissions review process. See more about JD admissions.
Indigenous Admissions Review Process
We start by considering your application using the faculty's regular competitive criteria. If necessary, we'll automatically provide you a second consideration if you've self-identified as Indigenous on your application. Applications are assessed with the Indigenous Law Centre Summer Program (at the University of Saskatchewan) application timeline in mind. See below for details about the program.
To be admitted under the Indigenous category it is important to explain the degree to which you identify with your Indigenous community. Indigenous ancestry and membership may be indicative of identity but ideally you should also provide evidence of your connection to Indigenous culture and/or family impact of colonization.
Supporting Documentation
You must submit documentation to verify your Indigenous identity by emailing a photocopy of your Native, Inuit, or Métis status card to law@ucalgary.ca no later than February 15. We recommend sending your documentation early in the application cycle, as applications may be assessed prior to February 15.
Get more information on other acceptable documents here.
If you need help determining an alternative way of verifying your Indigenous identity, please contact Writing Symbols Lodge.
Indigenous Law Centre Summer Program at the University of Saskatchewan
Notice to our Indigenous Applicants for Fall 2021
Please be advised that the ILC is in the process of developing an expanded legal curriculum as part of its new Strategic Plan. It is uncertain at this time whether the ILC Summer Program curriculum will be completed in time to deliver a 2021 Summer Program. We will update our website as more information becomes available. More information can be found here.
Funding for Indigenous Students
Additional external funding sources:
Indigenous Law Club
UCalgary Law's Indigenous Law Club hosts events throughout the school year to encourage awareness and discussion of Indigenous Law issues. The club also provides resources and support for Indigenous students who are interested in attending law school.
For more information, contact indigenouslawclub@ucalgary.ca.
Student Ambassadors
We have several members of our Student Ambassadors who are Indigenous. If you are interested in talking to one of them about life as a law student and about UCalgary Law, contact law.ambassadors@ucalgary.ca.
Kawaskimhon National Aboriginal Moot
In Cree, "Kawaskimhon" means speaking with knowledge about what is right. Each year a team of UCalgary Law students participate 
in this national, non-adversarial moot designed to incorporate Indigenous values and concepts of dispute resolution.
Courses at UCalgary Law
Our professors and researchers offer a number of unique courses in Indigenous Law and Indigenous Culture, including:
Indigenous Law Research
Our faculty members are researching in areas that include aboriginal law, indigenous law, and the intersection between laws affecting indigenous peoples and environmental issues.
Writing Symbols Lodge
Writing Symbols Lodge is a great place to go for additional resources about attending the University of Calgary, funding and academic support. Writing Symbols Lodge also organizes numerous community-based programs and cultural events that engage the campus and greater community.
Law summer program fills gap for Indigenous students
Summer series gives students exposure to law before classes start...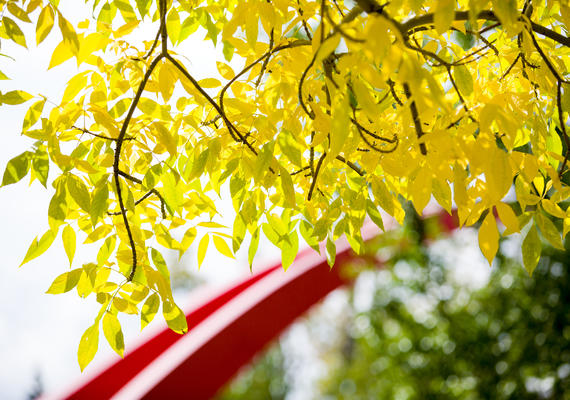 Calgary Territorial Acknowledgement
We would like to acknowledge the traditional territories of the People of the Treaty 7 region in Southern Alberta which includes the Blackfoot Confederacy (comprising the Siksika, Piikani, and Kainai First Nations), as well as the Tsuut'ina First Nation, and the Stoney Nakoda (including the Chiniki, Bearspaw, and Wesley First Nations). The City of Calgary is also home to Métis Nation of Alberta, Region 3.