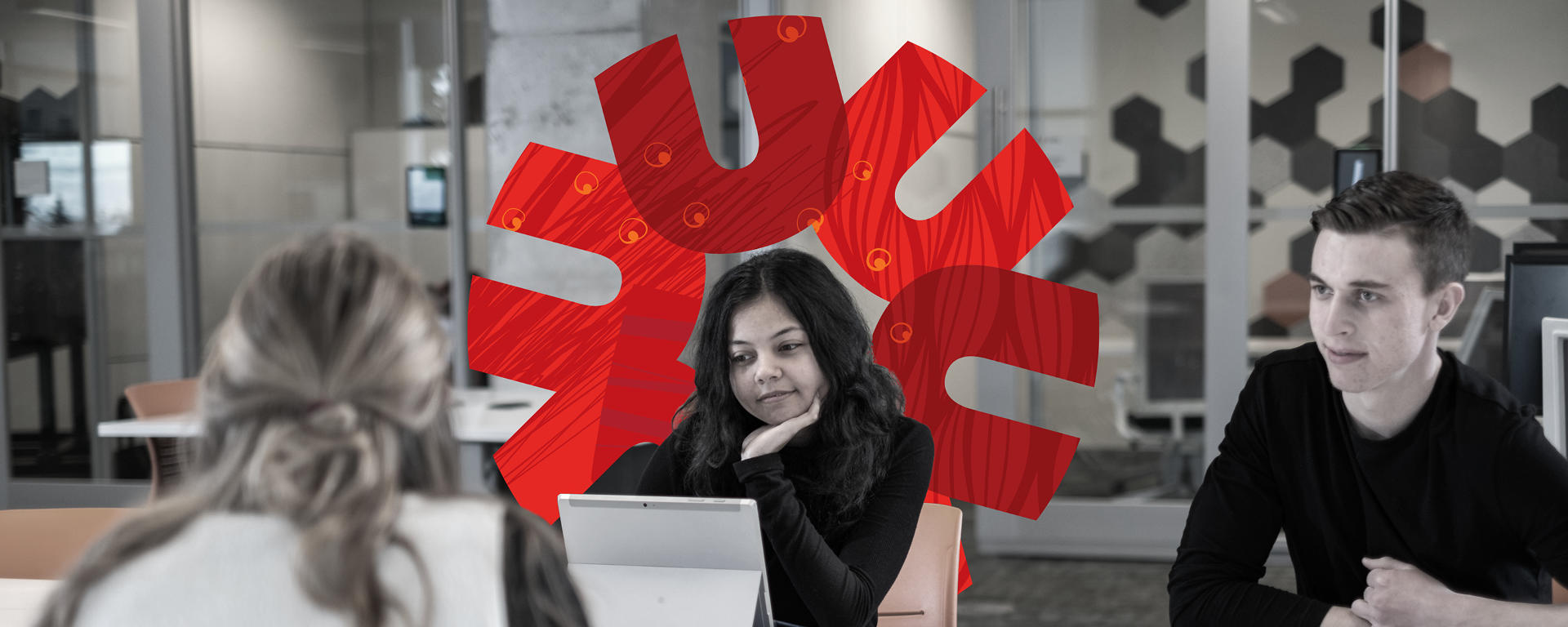 How do I apply to UCalgary Law?
All the information you need to apply to JD programs at UCalgary Law.
Applications are open September 1 - December 1.
First-year law school applicants need the following minimum qualifications:
1. GPA based on a minimum of the last 60 units (credits) of your undergraduate and/or graduate studies (if applicable), up to December 31 of the year you submit your application, from a post secondary institution in Alberta or its equivalent. See academic prerequisites for first-year JD program for further details.
2. An LSAT (Law School Admissions Test) score. 
Admissions Online Office Hours
Have questions about UCalgary Law or about applying to law school? Stop by our virtual office hours to ask questions from our admissions team.
Tuesdays, 2 - 3 p.m. | Thursdays, 10 - 11 a.m.
Email law@ucalgary.ca for the Zoom link.
First-Year JD Admissions Dates & Deadlines
For important dates for LOP and Transfer applicants, visit the Upper-Year Admissions page.
Sept. 1
Online applications open for Fall 2024 first-year JD applicants and Winter 2024 LOP applicants
Dec. 1
Application deadline for Fall 2024 first-year JD applicants (11:59 p.m. MST)
Jan. 31
Final LSAT score that will be accepted for Fall 2024 admission
Feb. 15
LSAT writing sample for Fall 2024 first-year JD applicants must be completed
Feb. 15
Supporting documents deadline for Fall 2024 first-year JD applicants (11:59 p.m. MST)
1. Identify the admission category
Please note UCalgary Law does not offer mature or other discretionary admission categories.
Academic prerequisites for first-year JD program
Your GPA is based on a minimum of the last 60 units (credits) of your undergraduate and/or graduate studies (if applicable), up to December 31 of the year you submit your application, from a post secondary institution in Alberta or its equivalent. No exception is made for any admission category.
It is rare that an applicant is admitted without completing their full bachelor's degree – please refer to the statistics on our Five Year Comparison chart.
Courses to be considered must be completed prior to December 31 of the year in which the application is submitted.
Courses towards a diploma or certificate are not recognized towards meeting the minimum unit qualification unless they have been recognized towards an undergraduate degree program from an accredited post-secondary institution and appear as such on a student's transcript.
There is no specific "pre-law" program. JD students come from a variety of academic degree programs.
There is no mature or discretionary admission category other than the Indigenous Student Admission Process.
In the application, all Canadian applicants are asked to indicate if they self-identify as First Nations, Métis, or Inuit. If you answer yes to that question, you'll be eligible for the Indigenous admissions review process.
View more information about Indigenous admissions, supporting documentation, the assessment process, and Indigenous student life.
In the online application, all applicants are asked to indicate if they self-identify as Black. If you answer yes to that question, you are eligible for the Black applicant review process.
View more information about the Black Student Equitable Admissions Process, the assessment process, and Black student life.
Persons with disabilities are encouraged to apply and, once admitted, we will accommodate you in accordance with university policy. More information about accessibility services available to UCalgary students can be found on the Student Accessibility Services website.
English Language Proficiency
English is the official language of instruction at the University of Calgary. All applicants must demonstrate English language proficiency to be considered for admission to an undergraduate program. English Language Proficiency for the JD program is met by either:
Successful completion of at least two years of formal, full-time study in English at an accredited or recognized post-secondary institution in Canada or a University of Calgary approved English-speaking country; OR
Successful completion of an approved English language test/program, as set for undergraduate programs at the University of Calgary.
Official test results must be sent by mail to the following address:
Law Admissions, MFH 2380
University of Calgary
2500 University Drive NW
Calgary, AB T2N 1N4
See the University of Calgary Calendar for more information.
To access the online application, an eID is required.
Current and former UCalgary students/applicants: Use your previous eID, which is typically firstname.lastname. If you forgot your password, find out how to reset it.
New applicants: you must create an eID before starting your application.
For help with creating an eID or with recovering a previous eID/password, please contact the UCalgary IT Support Centre.
**Please ensure you choose "Law" and not "Law & Society" when you start your application.
The online application includes:
Acknowledgement of Applicant Responsibilities
Academic history: you must disclose every post-secondary institution you have attended
Academic and/or other honours
LSAT results and LSAC account number (e.g., L12345678)
Employment history
Other non-academic pursuits
Special facts
Statement of interest
A non-refundable application fee must be paid online when submitting your application.
$125 for Canadians or Permanent Residents
$145 for International Students
We will only consider the information that you provide in the online application. No updates will be accepted after your application is submitted.
Statement of Interest
You must answer the following three questions within a maximum of 500 words in total:
How have your previous experiences and academic choices influenced your decision to apply to law school?
Why are you interested in attending UCalgary Law specifically?
What strengths and qualities do you possess that the Admissions Committee should take into account when considering your application for admission?
Re-applicants must provide a new Statement of Interest in their reapplication.
Special Facts Related to Diversity, Equity and Lived Experience
This is an optional space available to all applicants. You may choose to share relevant information with the Admissions Committee to help give context and perspective to your application. This section is not intended to provide extra space to answer the questions posed in the Statement of Interest. The Admissions Committee will consider whether this space was used judiciously by the applicant as part of its deliberations. Many applicants will appropriately choose not to utilize this space. (Maximum 1000 words)
Examples of what you may choose to share in this space include but are not limited to
Issues related to systemic barriers you have overcome and or continue to experience.
How you have been impacted by the legal system and /or access to justice
How your experience through race, religion, gender, gender expression, sexual orientation, socio-economic status, disability, age, ancestry, place of origin or other factors have influenced your interest in pursuing a legal education and will shape your contribution to the law school and legal community.
Challenges you have overcome or continue to experience.
Significant achievements or challenges that relate to your interest in pursuing a legal education and that make you a competitive candidate.
Exceptional circumstances negatively affecting grades and /or LSAT score and why they are no longer relevant to assessing your future success.
Significant work experience and /or significant time away from post-secondary and how your lived experience will make you a competitive candidate.
3. Prepare required supporting documents
You are encouraged to write the LSAT no later than November of the year you submit your application, though LSAT scores from the following January will also be accepted.
January LSAT scores will be added to applications in late February, so you may be at a disadvantage by writing the LSAT this late. If you opt to write or rewrite the LSAT in January, you should be aware that we may not receive your LSAT test results until after the Entrance Awards of Excellence recipients have been selected.
 
We will use your LSAC account number to get your LSAT report directly from LSAC.
 
You must have one writing sample on file with LSAC before LSAC will release your LSAT report to us. We encourage you to provide your writing sample to LSAC within two weeks after your test date, to ensure a timely release of your LSAT report. First-year applicants to UCalgary Law must submit an LSAT writing sample to LSAC no later than February 15 to allow LSAC time for processing.
 
Refer to the Law School Admission Council (LSAC) website for information about the test, registration, locations, and study guides, and all questions about such information should be directed to LSAC.
 
Any applicant who cannot afford the LSAT fee may apply for an LSAT fee waiver. LSAT fee waivers for Canadians are now assessed by LSAC without requiring prior approval from a Canadian law school.
Unofficial Transcripts must be uploaded by you to your My UCalgary Student Centre as one pdf document for each institution and must include the following:
The institution name
Your name
Date printed/downloaded (cannot have a print date older than September 1, 2021)
Credential received and date conferred (if degree completed)

Some international schools may indicate degree conferrals on a separate document; if this is the case, please scan the two documents together in one file before uploading

For those in the process of competing a degree, your grades and academic standing up to and including December 31, 2022. Transcripts dated earlier will not be considered.
Transfer credits received
We will not accept as an unofficial transcript:
Grade summary
Screen shot or downloaded copy of your Student Centre
List of courses
If your institution does not provide a digital unofficial transcript with the above listed requirements, you will have to have them mail you an official transcript to your home address which you can then upload.
The Admissions team is unable to upload transcripts for you. Please do not send official transcripts to us unless you are requested to do so. Only applicants who are offered a seat or are waitlisted will be required to provide Official transcripts.
Sign in to My UCalgary Student Centre to upload your documents
UCalgary Law does not require reference letters as part of your first-year JD application and they will not be accepted. 
Within a few days of submitting your application, you will receive a confirmation email with your student identification number (UCID). This email will go to your UCalgary email address if you already have one. If you don't see your email within a couple days, check your spam folder, in case your email filtered the auto-generated email.
Rolling admissions
A form of rolling admissions is used, which means that some decisions are sent out before all the files have been read. Please note that this does not mean that your application will be necessarily read in the order it was submitted. Applications will start to be assessed after December 1 as they become complete. This is one reason to have your application submitted and supporting documents in as early as possible.
Due to the nature of the assessment process, there is no typical timeframe in which you will receive a decision after your application becomes complete. You may receive a decision very quickly, or you might receive a decision later in the admission cycle.
All applicants will receive either an offer, regrets, or waitlist notification through your My UCalgary Student Centre no later than the end of June.
Waitlist
There are no rankings assigned to those who are on the waitlist. The committee will consider everyone on the waitlist to determine who will receive an offer at the time a spot becomes available.
This means that we cannot estimate how long it will take for each waitlisted applicant to receive a final decision; waitlisted applicants may receive their final decision as late as orientation week.
We want you to know that based on past experience, there are often changes to our class list throughout the application cycle. The final first year roster will likely include individuals whose application was waitlisted at some point.
Multiple commitments
Please be aware that If you accept an offer of admission from UCalgary law, we may disclose this information, as well as your name, gender and date of birth, to LSAC and/or other Canadian law schools for enrolment management purposes.
Your chances of being admitted will not be affected by applying to, or being admitted to, another law school; however, if you have accepted an offer at multiple schools, the Admissions Committee may set a deadline by which you must decide whether you will be attending UCalgary Law.