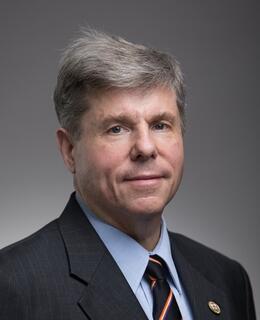 Dr. Ian Holloway, PC KC PhD LLD
Background
Credentials
LLD (Honoris Causa), The Law Society of Ontario, 2022
Educational Background
PhD Australian National University, 1999
LLM University of California at Berkeley, 1992
LLB Dalhousie University, 1985
BSc Dalhousie University, 1981
Biography
Ian Holloway has been Dean of Law at the University of Calgary since 2011. Prior to this, Ian served as dean at another Canadian law school, and as associate dean at the Australian National University. Over the years, he has also held appointments at Cambridge and the National University of Singapore. He is a graduate of Dalhousie University, the University of California at Berkeley and the Australian National University. He is also an alumnus of the Kellogg School of Management at Northwestern University and the John F Kennedy School of Government at Harvard University. He is widely-published, both in Canada and around the world. In addition, he has published a book on naval history as well as many essays or other pieces in various legal and non-legal periodicals. He has been a regular columnist for Canadian Lawyer Magazine for a number of years. Before beginning his academic career, Ian spent a number of years in private practice in Halifax with the Atlantic Canadian law firm of McInnes Cooper, where he focused on labour and employment law. He also served as the law clerk to the chief justice of the Federal Court of Appeal. In 2003, Ian was elected to membership in the American Law Institute, a distinction that is held by only a handful of Canadians. In 2004, he was appointed Queen's Counsel. In 2007, he chaired the review of legal education in Oman. In 2013-14, Ian served as the legal education and training team leader for the Canadian Bar Association's Futures project. In 2018, he was elected a Fellow of the College of Law Practice Management, the first Canadian legal academic to be so honoured.
Ian is a member of the Nova Scotia Barristers' Society, the Law Society of Ontario, the Law Society of Alberta and the Canadian Bar Association. He is currently a Trustee of the NALP Foundation, and formerly served for eight years as a Trustee of the Law School Admission Council. He served as a Governor of the Southern Alberta Division of the Canadian Corps of Commissionaires. He was a member of the Advisory Council to the Minister of Heritage on the Commemoration of the War of 1812, and he served as a member of the vice-regal selection committee for the Lieutenant Governor of Alberta. In 2015, he was appointed to the National Security and Intelligence Review Agency, and made a member of the King's Privy Council for Canada.
Beyond the legal sphere, Ian spent a total of twenty-five years serving in the Royal Canadian and Royal Australian Navies.
Research
Areas of Research
Administrative Law, Legal History
Awards
Queen Elizabeth II Diamond Jubilee Medal,

2013

Commemorative Medal for the 125th Anniversary of Canadian Confederation,

1992

Canadian Forces Decoration,

1989

Queen Elizabeth II Platinum Jubilee Medal (Alberta),

2022
Publications
"Special Methods and Tools for Educating the Transnational Lawyer: Exchanges".

Ian Holloway. 55 Journal of Legal Education. (2005)

"Why Legal History Matters".

Ian Holloway, A R Buck. 7 Australian Journal of Legal History. (2003)
Natural Justice and the High Court of Australia.

Ian Holloway. Ashgate Publishing. (2002)

Laying Down the Law: The Foundations of Legal Reasoning, Research and Writing in Australia.

Cook, C., Creyke, R., Geddes, R.S., Holloway, I. Butterworths. (2001)