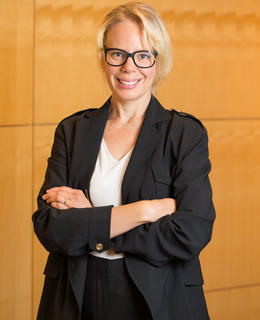 Anna-Maria Hubert, LL.M.
Positions
Assistant Professor
Faculty of Law
Background
Educational Background
LLB University of Calgary, 2005
BSc Physiology, University of Calgary, 2000
Biography
Anna-Maria joined the Faculty of Law in 2015. She is also an Associate Fellow at the Institute for Science, Innovation and Society (InSIS) at the University of Oxford.
In addition, she is currently completing her doctorate at the University of Bremen, Faculty of Law, where she was awarded a research associate position through the Bremen International Graduate School for Marine Sciences (GLOMAR) and MARUM Centre for Marine Environmental Sciences from 2010 to 2013. Her doctoral research examines progressive developments in the regime for marine scientific research under the law of the sea, primarily with a view to understanding its legal and practical implications for advancing the protection and preservation of the marine environment.
From 2013 to 2015, Anna-Maria worked at the Institute for Advanced Sustainability Studies (IASS) in Potsdam, Germany.
Research Activities
Anna-Maria's research interests generally lie in the field of public international law, focusing on the law of the sea, international environmental law, and international law and policy relating to science and emerging technologies.
Anna-Maria is the Principal Investigator for the Geoengineering Research Governance Project (GRGP), a joint initiative of the University of Calgary, IASS-Potsdam and the University of Oxford. It seeks to enhance understanding about the complex issues posed by proposed geoengineering techniques, and to analyse the changes required in governance and legal frameworks necessary to enable effective oversight in this space in line with accepted principles.
During her tenure at the IASS, Anna-Maria worked in an interdisciplinary research group studying the implications geoengineering interventions in the global environment, mainly for the purpose of counteracting climate change. In connection with her research examining the regulation and governance of this array of technological proposals, she has acted as a consultant and provided information and advice to governments, treaty bodies and intergovernmental organisations, NGOs, and scientific institutions on this topic. Since 2013, she has served as advisor to the International Union for Conservation of Nature (IUCN) and delegate at the meetings of the 1972 Convention on the Prevention of Marine Pollution by Dumping of Wastes and Other Matter and its 1996 Protocol (known as the London Convention and Protocol).
Anna-Maria has received diplomas from the Rhodes Academy of Oceans Law and Policy in 2010, and the International Tribunal for the Law of the Sea (ITLOS) Summer Academy in 2012.
Research
Areas of Research
Public international law, Law of the sea, International environmental law, International law and policy relating to science and emerging technologies, International Human Rights Law
Participation in university strategic initiatives
Courses
| Course number | Course title | Semester |
| --- | --- | --- |
| LAW 406 LEC 03 03 | Torts | 2021 |
| LAW 406 LEC 03 03 | Torts | 2021 |
| LAW 627 LEC 01 01 | International Environment Law | 2021 |
| LAW 65354 LAB 09 B09 | Directed Research | 2021 |
| LAW 65362 LAB 08 B08 | Directed Research | 2020 |