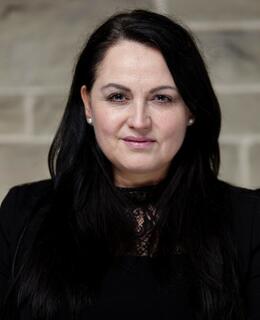 Dr. Elizabeth Steyn, BA LLB LLM LLD
Positions
Assistant Professor
Faculty of Law
Background
Educational Background
LLD Université de Montréal, 2018
LLM UNISA, South Africa, 2013
Graduate Certificate in Advanced Company Law and Securities Law UNISA, South Africa, 2007
LLB University of Johannesburg, 1994
BA Law, University of Johannesburg, 1992
Biography
Prior to joining the University of Calgary Faculty of Law in 2023, Elizabeth was the Cassels Brock Fellow in Mining and Finance Law at the Western University Faculty of Law where she led the law school's interdisciplinary sustainable development curriculum, including the Global Sustainability Certification and the Graduate Diploma in Mining Law, Finance, and Sustainability. She also was a faculty member of the Western Institute for Earth and Space Exploration.
She is a member of The Foundation for Natural Resources and Energy Law (FNREL), the Natural Resources Law Teachers Institute (NRLTI), the Canadian Institute of Mining (CIM), and the Prospectors and Developers Association of Canada (PDAC). In September 2023, she was appointed to the International Committee of the FNREL.
The transversal theme in her research activities is the intersection of sustainable natural resource exploitation practices with responsible business conduct. Thus she considers contemporary issues around a responsible and sustainable mining and metals sector, as well as cutting-edge developments including regulatory gaps relating to deep-sea mining and the development of an international regulatory framework for space mining. For instance, she recently served as the Principal Investigator on an 18-months United Nations Environment Programme (UNEP) project on responsible mining for the energy transition.
Fluent in five languages, she is the author/co-author of 16 articles/book chapters in peer-reviewed publications and has spoken at national and international conferences on four continents. She obtained her Doctorate in Law (LL.D.) in 2018 from the Université de Montréal (Mention of Excellence; Dean's Honour List) on the harmonization of the protection of Indigenous sacred sites and the development of natural resource projects.
In 2016, Steyn spent four months as a Visiting Fellow at the Max Planck Institute for Social Anthropology, Department of Law and Anthropology in Halle (Saale), Germany, at the invitation of its Director, Professor Marie-Claire Foblets.
Originally from South Africa, she received her LL.M. cum laude (Council's Award) from the University of South Africa, and graduated with a BA/LL.B. cum laude from the University of Johannesburg, where she served on the Faculty of Law from 1994 to 2003.
Steyn was admitted as an Advocate to the High Court of South Africa in 1994 and practiced in the natural resources and energy law, corporate law, corporate governance law, commercial law, and international trade law fields.
Research
Areas of Research
Mining Law
Responsible and sustainable practices in the mining and metals industry
Critical Minerals
Minerals and metals that are of critical and/or strategic importance on a national or global level in the context of the energy transition
Business and Human Rights
Responsible business conduct, notably within the context of the extractive sector
Space Mining
The development of an international regulatory framework for space mining
Deep-Sea Mining
Regulatory gaps relating to deep-sea mining
Sacred Sites
The protection of Indigenous sacred sites / cultural heritage protection / Indigenous way of life
Participation in university strategic initiatives
Courses
| Course number | Course title | Semester |
| --- | --- | --- |
| LAW 693 | Critical Minerals, Regulatory Frameworks, and Geopolitics | Fall 2023 |
Publications
"Which Law for Which Religion? Ethnographic Enquiries into the Limits of State Law vis-à-vis Lived Religion".

Katayoun Alidadi, Jonathan Bernaerts, Petra Burai, Marie-Claire Foblets, Kalindi Kolal, Mareike Riedel & Elizabeth Steyn. Zeitschrift für Rechtsphilosophie. 237-279. (2016)

The Tao of Traditional Knowledge: Constructing a New Paradigm for the Protection of an Ancient Art".

Elizabeth Steyn. Les Chantiers de la recherche en droit. 55-60. (2014)

"Electricity Market Restructuring: Perspectives From Abroad".

Elizabeth Steyn. South African Mercantile Law Journal. 606-650. (2014)